9 Da Nang Street Food Must Eat
Da Nang is blessed with not only beautiful beach and stunning scenery thank to favorable geography position also unique cuisine which is made by the local people. Da Nang street food plays certain part in reflecting the rhythm of life as well as special gastronomy of people in there.
1. Quang noodle
Quang noodle originated from Quang Nam province. This dish is made with rice noodle and variety of herb, lettuce and the flower of bananas. Interestingly, there are three kinds of quang noodles served with different types of broth. Broth can be made by simmering pork and tibia shin, chickens, or snakehead fishes seasoned with salt, sugar, black pepper, shallot, garlic and lemon grass. The people living in central Viet Nam put Quang noodle into a big bowl, peanut and Vietnamese crackers are sprinkled after pouring broth. Above all, the chief have to make sure that the broth is strongly flavor and only a small of it is used to wet the noodle. To be honest, Quang noodle is essence of Da Nang owing to that local people take advantage of available material and put their emotion into this dish.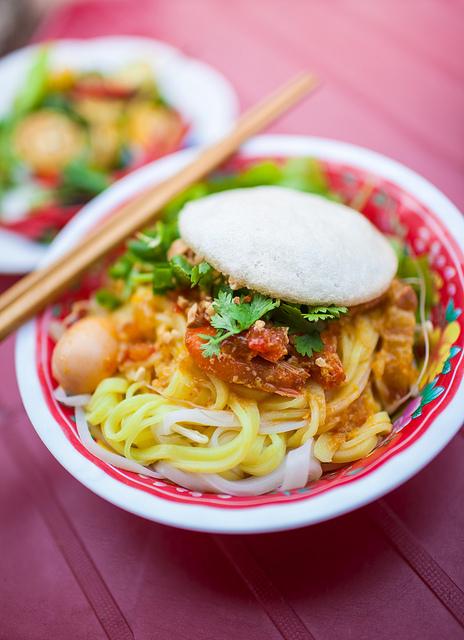 2. Fish cake noodle ( bun cha ca)
A bowl of fish cake noodle is full of broth which is experienced the sweetness of fish, pumpkins and pineapple. Due to locating in coastal area, Da Nang profit fresh abundant seafood sources every years, fish cake noodle is special gift of nature. Amazingly, shrimp sauce also is added yourselves to stimulate the flavor of broth after the chief prepared for you a bowl of noodle soup. To taste this food, a small restaurant at 109 Nguyen Chi Thanh- Hai Chau district is best place due to 40 years experience You can join Da Nang Food Tour with us and our tour guide will show you more interesting insights about Fish cake noodle
3. Noodle salad with pork and anchovy fish sauce (bun mam)
Bun mam is made out of vermicelli, pork or roasted pork, vegetables, unripe papaya, peanuts and, of course, anchovy fish sauce. As the name suggests, the exquisiteness of this dish depends mostly on its anchovy fish sauce. Originally Bun mam is accompanied with boiled pork, and other alternatives include roasted pork (my favourite). Additionally, bun mam is served with "mít non" (unripe/young jackfruit) and the special chilli sauce which are trademarks of the central region. Add:  Quan 110 – 110 Huynh Thuc Khang Danang
4. Sweetsoup
When the cold winds are blowing into every street, the time for winter's food is also here. The sweet soup carts are now appearing on the busy streets of Hoang Dieu, Bach Dang, Phan Chu Trinh, Pasteur, Nguyen Chi Thanh. Some popular sweet soup such as: Che bap (corn), che troi nuoc(sticky rice cake and green pea paste), che khoai (taro), che dau ngu (kidney beans sweet soup), che dau xanh (green bean), che dau do (red bean), che bot loc ( cassava ) and so on. These kinds of sweet soup are usually served smoky hot. It is an popular interest of the locals to enjoy sweet soup on winter days.
5. Vietnamese thick noodle soup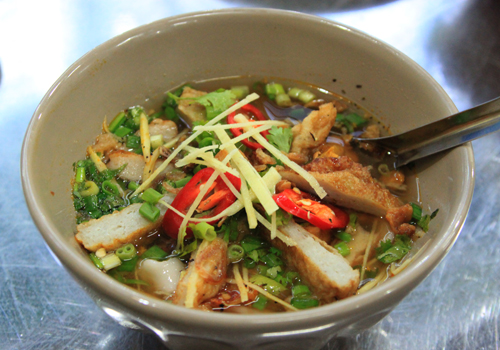 A bowl of Banh Canh and chewy fried bread (XI QUAY) is really original eating style only people in Da Nang city. Banh canh is thick Vietnamese noodle that looks quite like Japanese udon which has the thickness of a chopstick, more or less. Noodle can be made from cassava, wheat or rice and the broth of Banh Canh is cooked from pork, crab, fish. People do not linger when they eat banh Canh, they take a spoon of soup, make it cooler and eat after that. You can try banh canh at Madam Nga (193 Đống Đa, P. Thạch Thang, Quận Hải Châu, Đà Nẵng); Madam Cam (54 Lê Duẩn, P. Hải Châu 1, Quận Hải Châu, Đà Nẵng)
A comprehensive list of things to do in hanoi. Includes all the major sights and activities in and around Hanoi.
6. Sizzling cake (banh xeo)
In cold weather and rainy days, pancake restaurants are crowded with a group of friends and family being fond of the hot cake planes. Actually, enjoying oil and mix sizzling sound as pouring on a hot pan and awaiting with fragrant and crunchy cakes is memorable experiences. Sizzling cake is best choice to miss empty stomach and warm the cockles of people's hearts in the winter. Different from surrounding areas, sauce is made with peanut, ground pork liver and seasoning; besides, this sauce is also used for the rice vermicelli with grilled pork. Specially, every restaurants selling sizzling cake also have the rice vermicelli with grilled pork . Banh Xeo Ba Duong located at K20/23Hoang Dieu St, Danang is highly recommended Banh Xeo address in Da Nang city.
Explore best places to visit in vietnam with Hivietnam: find out when to go, view itineraries and read about lakes, bays, street food and water puppets.
 7. Lạng Sơn grilled bread served with grilled pork
Interestingly, we also have opportunity to enjoy Lang Son special food in Da Nang city. Unlike Da nang and Hoi An bread, people living in Lang Son province have own process to enjoy bread. Due to cold weather in this region, breads are covered with secret seasoned mix before grilling. Pork is also seasoned carefully and grilled. Lang Son grilled bread is sold by a family at 602 TRAN CAO VAN street , Thanh Khê district , Da Nang city. Each member of this family have own duty and work in process.
8. Da nang spicy snail (oc hut)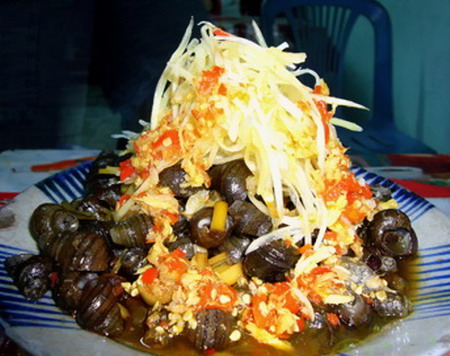 In the evening, walking on foot along Han river or Le Duan street is fantastic ideas to explore the flavor of Da Nang spicy snail for fresh wind night. People can not conceal their craving for this street food. Various types of escagots are cooked in different styles, but the most popular is small escagots are processed with lemongrass and chili. Watch video how local sucks snail. Due to small shape, people in Da Nang also enjoy in a individual way. Taking a snail and sucking the smaller end of the shell before sucking the opening. However, if you can not take it out and heat your lip owing to spiciness, a toothpick is used to solve this problem. That is reason why Vietnamese named Da Nang spicy snail is OC HUT. Kieu Kieu restaurant is the most famous restaurant selling various type of snail Oc hut is ranked top Da Nang street food If you want to know more about Da Nang cuisine, you can check things to do in danang.