Reading Book and Drink best Coffee Dak Lak in Hanoi
Not situated in a favorable location in Hanoi, The Booklink still creates its distinct imprints to each customer with the flavor of Dak Lak coffee which is made by the shopkeeper. Com to Hanoi is the best time to visit vietnam
Related: If you wanna travel to Vetnam but don't know anythings about Vietnam travel, you can look at in this topic to see things to do in vietnam. It's really useful
If one day you want to escape from the hustle of the city but still want to chat with friends together with cups of coffee, you should visit The Booklink. It is quite hard to find the shop because it is located in the end of a small lane in the campus of Vietnam Academy of Agriculture.
Here, you will get a taste of pure coffee in Dak Lak from a poor family but skillful in roasting coffee. They had never done a large amount to selling out. Coffee came to the shop owner by accident when he chatted online, he knew this family, then he tried to dropped into the family and  persuaded them send coffee to Hanoi. In addition to the two main types of coffee drinks: black and brown coffee, the shop adds "bac xiu" for coffee drinkers who prefer more milk.
Related: the hanoi opera house  stands as the architectural, cultural and political symbol of the 1000 year old Capital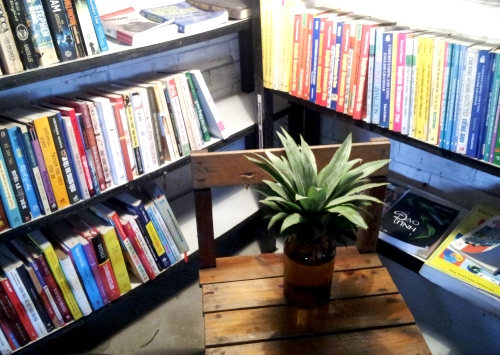 A corner of the café shop for those who love reading book
Stepping inside, you will be amazed with the café's space which is mostly decorated with recycled things. The shop owner manually made furniture, collected old cups, bowls, etc. The shop has indoor area with cozy atmosphere and spacious outdoor area with trees and flowers.
Unlike other cafes in a narrow area in Hanoi, the advantage of The Booklink is spacious and quiet space and especially covered with many green trees all year round. Visiting the shop in spring, you will see trees sprouting; in summer, tree branches create shadows; in autumn and winter, yellow leaves fall everywhere.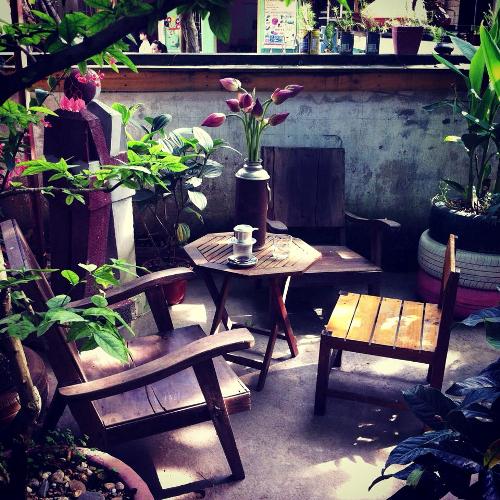 A most favorite corner of the café shop
There are a variety of books in terms of economics, Vietnam stories, foreign stories, etc. but mainly English language books. Sitting between a blue sky, enjoying genuine Dak Lak coffee and holding your favorite book, you would probably forget the concept of time.
The shop also has a various kind of drinks. Beside four kinds of coffee, it also serves a lot of fruit juices, cocktails and beer. Especially all are carefully prepared by the shopkeeper. The Booklink gradually become an attractive meeting place for those who addict the pure coffee flavor, the love for books in particular and art in general.
Share This Post: