Top Four Budget Shopping Places In Hoi An
You are a traveler who is keen on learning about traditional culture and manners of a particular area?
You consider yourself as a shopaholic?
Then, Hoi An is the best place in Viet nam for you to discover and shop at the same time!
Hoi An satisfies shopaholics with suits or silk shirts made by the best-qualified tailors but surprisingly at a very reasonable price. Budget here does not mean old-fashioned, low quality. In Hoi An, it is certain that shopaholics can buy different cheap items but still suit their tastes, demands, and pockets. What's more, only in Hoi An can you enjoy a new way to shop – design shopping. Shopping lovers can surely order their own products, which are uniquely made for themselves. Of course, whenever deciding to buy anything, do not forget to bargain down the price.
So, economical shopaholics! Are you getting curious about where to do shopping during your trip in Hoi An? Let us recommend you 4 wallet-friendly shopping destinations that can offer you not only the best price but also the best quality products.
1. Hoi An night market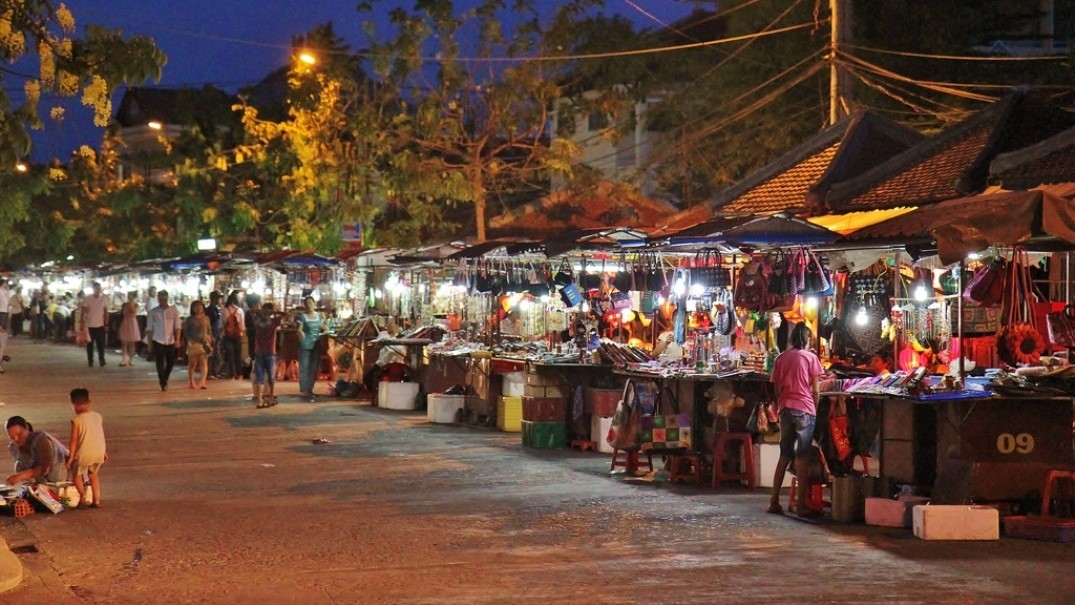 Location: Nguyen Hoang Street, nearby Hoai River and opposite the Japanese Covered Bridge.
Opening hours: 5p.m – 11p.m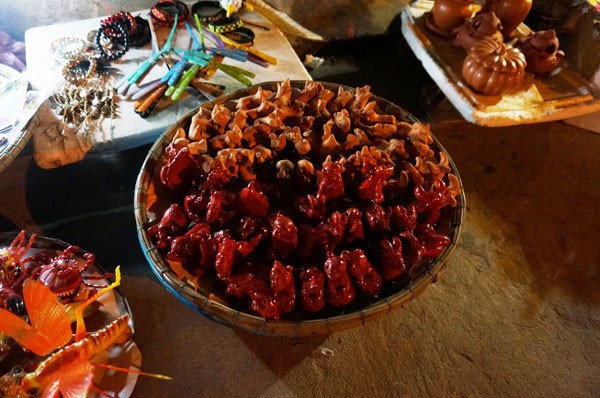 Hoi An night market contains almost 50 stalls along an over 300-meter street. Each stalls cover an area of 7.5 square kilometers. These shopping stalls offer various types of goods and souvenirs which represent for the localism of the ancient city.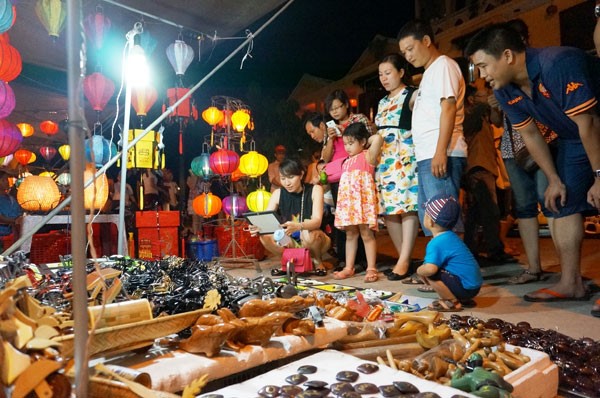 That localism is not only shown in the friendly purchasing atmosphere but also handicraft products of local people, ranging from the traditional lanterns with a variety of colors and patterns, lovely to he (toy figurine), Thanh Ha pottery products, to cloth and silk, etc. Besides, you can easily enjoy Hoi An specialties at this night market which are sold around.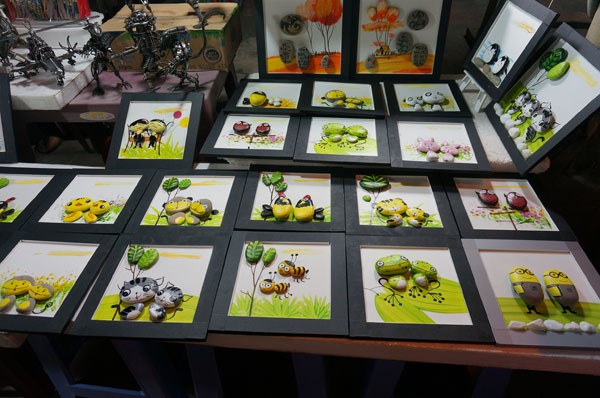 Right in the entrance to the market, you will be able to see many different stores selling lanterns along the right side of the street. Lanterns are one of the most commonly purchased souvenirs for tourists when traveling to Hoi An.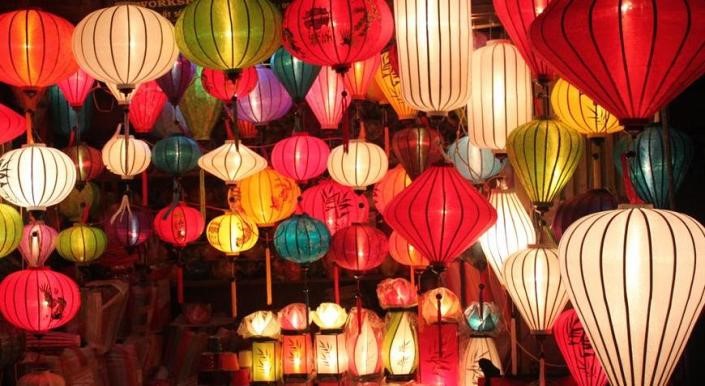 Hoi An traditional lanterns
Hoi An traditional lantern is made of silk and the frame in bamboo. They are foldable; therefore, you had better ask the sellers to show you how to re-unfold to avoid breaking it.
There is now only one lantern maker who keeps the secret of making the true Hoi An lanterns. He currently has his own store at the night market.
The price of a lantern in Hoi An Night Market:
A big lantern costs between 70,000 VND and 90,000 VND depending on your bargaining skills.
A small lantern costs between 30,000 VND and 40,000 VND
Other stores to buy a lantern in Hoi An:
Lifestart Foundation (No. 77, Phan Boi Chau Street)
Long Vy Lantern (No. 6, Phan Chu Trinh Street). You can also learn how to make small lanterns there.
Tips:
Do not get overwhelmed and buy products at the first stalls/shops because you may find the same item offered in other stalls/shops at cheaper prices.
Do not forget to bargain down the price to a quarter or even a half when you want to buy any items in any stalls. If the vendors refuse to sell them to you, try to avoid expressing your interest in such items to the vendors, just go slowly to other stalls. The vendors may call you back and agree with the negotiated price.
2. Rôni shoes and bag shop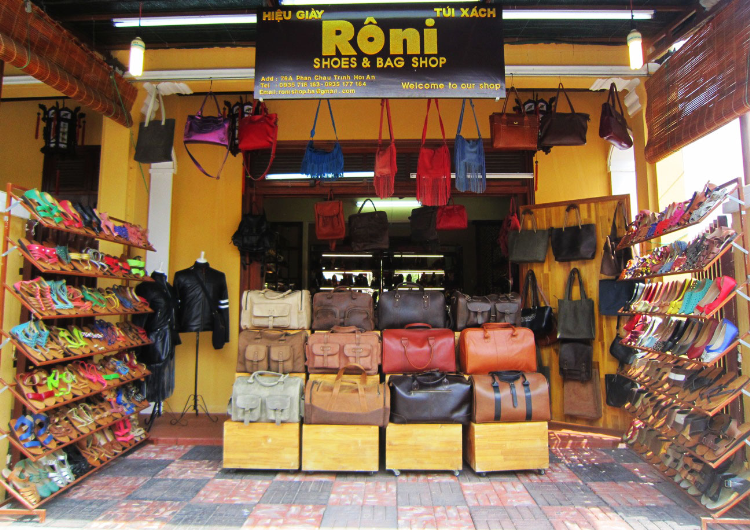 Address: No. 78A, Phan Chau Trinh Street, Hoi An, Vietnam.
Location: The shop is located right in the main street of the ancient city – Phan Chau Trinh Street, which is absolutely easy for you to find.
Mobile: 0935716163 – 0935177164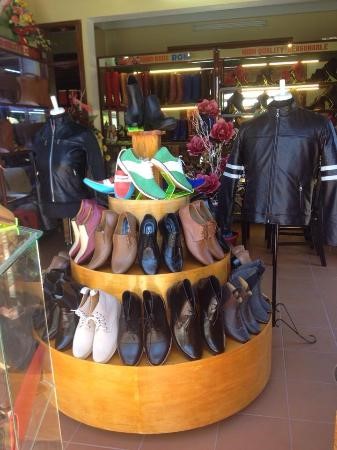 Rôni is a fifteen-year family running shop. Its current owner is Mrs. Loan, who has two sons, named Bi and Kind. These two boys are also running the business with Mrs. Loan.  Rôni Shop is famed for its high quality, friendly service, and reasonable prices. The products are made by well-qualified local makers but at international standards. The out-standing slogan of this shop is ensuring every customer is satisfied with their products. In case you are not contented with your products, you can return them to the shop, Miss Loan and her team guarantee to refund your money in full.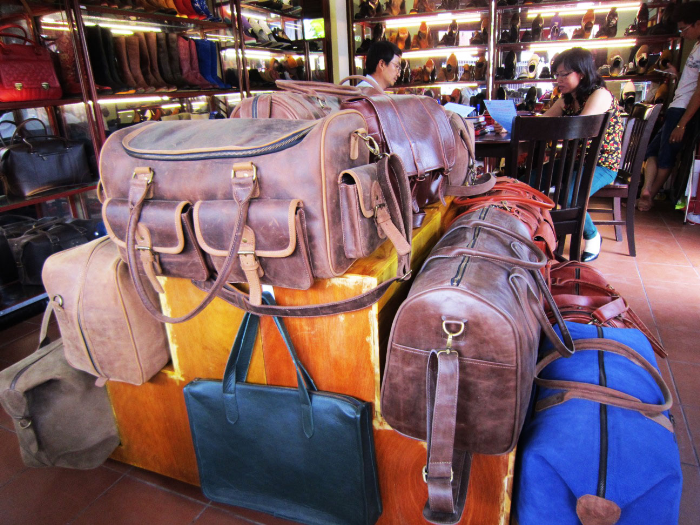 Rôni shop has many samples of shoes, cow leather handbags, travel bags, belts, and wallets for your choices with reasonable prices. What's more, they have an express service with 24 hours for making all items. What you need to do is tell the sellers about the item you want to make, choose the leather and wait for less than 24 hours until your products are done with great quality by passionate makers and good prices as well.
Find things to do in danang: temple, museum, pagoda those places should not be missed when travelling to Da Nang.
Price:
Leather bag: US$70 – 150
Leather shoes: US$ 15 – 90
Other stores to buy shoes and handbags in Hoi An:
Address: No. 18, Tran Phu Street Phone number: +84 935 211 382
Address: No. 44, Phan Boi Chau Street. Phone number: +84 935 211 382
3. LANA tailor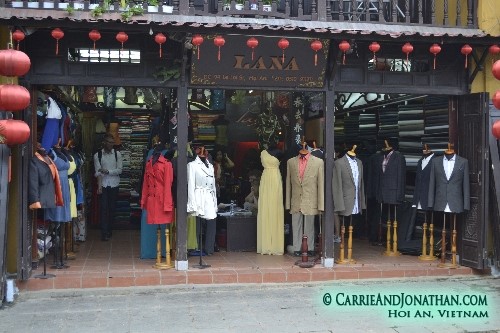 Address: No. 94, Le Loi Street, Hoi An, Vietnam.
Email address: lanaallure@me.com
Website: lanatailor.net
Phone number: +84 5103929559
Like many other tailors in Hoi An, Lana tailor offers a large selection of designs for you to choose from. However, you will be impressed by the way the sellers approach you. Their excitement at work and their hospitability to the customers can help you have unforgettable time when having your clothes made here. In addition, there is no need for you to be worried about being in the situation when the sellers are pushy and try to take your measurements even though you do not want to purchase anything.
In Lana's, instead of handing you a catalogue, or an ipad to show the designs, the sellers tend to explain carefully the types of materials available, show you the samples and highlight the quality of each. What's more, not waiting until you ask, they are always willing to show you the workshop in the shop. This action can ensure you that Lana's do not send your orders to the local third party and charge you with much higher prices, like some other tailors. Order your own clothes in Lana's, and they will surely be delivered in perfect conditions in only a few hours. The staff also keeps your measures; therefore, you can order via the shop's website at any time.
Read more thing to do in dalat
So, if you are looking for a wallet-friendly tailor but still in good quality, Lana's is not a bad idea to think of.
Other stores to buy clothes in Hoi An:
– Showroom 1: 47 Nguyen Thai Hoc Street, Hoi An, Vietnam.
Tel: +84 5103910474 or +84 510 3923415
– Showroom 2: 47 Tran Phu Street, Hoi An, Vietnam.
Tel: + 84 510 3861119
– Showroom 3: 358 Nguyen Duy Hieu Street, Hoi An, Vietnam.
Tel: + 84 510 3914995
– Showroom 4: 580 Cua Dai Street, Hoi An, Vietnam.
Tel: + 84 510 3914997
Email address: info@yalycouture.com
Address: No. 101 Tran Hung Dao Street.
Tel: +84-510. 3861 818
Email: baokhanhsilk@vnn.vn
Website: http://www.baokhanhsilk.com
Address: No. 294, Nguyen Duy Hieu Street
Tel: (84-510) 861 923
4. Reaching out arts and crafts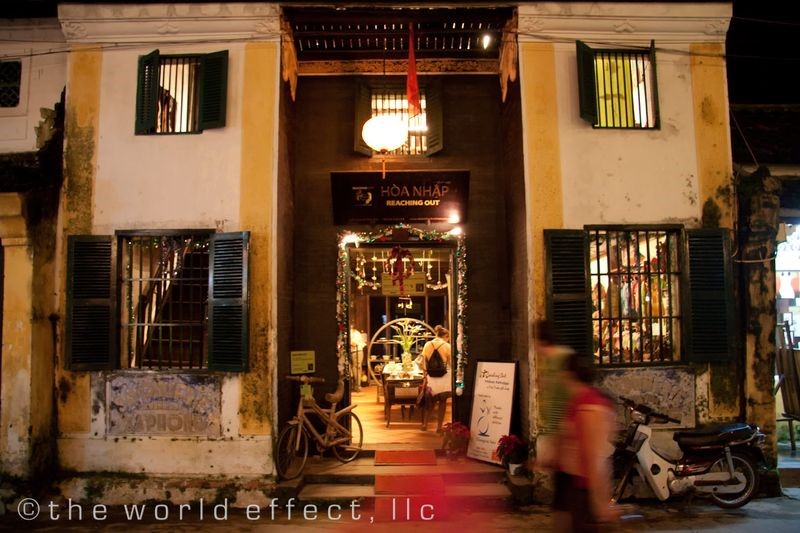 Address: No.103, Nguyen Thai Hoc Street, Hoi An, Vietnam.
Tel: +84 510 3910 168
Website: http://www.reachingoutvietnam.com/
Location: The shop is located in an ancient building in the center of the ancient city.
Opening hours:
Monday – Friday: 8:30 am – 9:00 p.m
Saturday and Sunday: 9:30 a.m – 8:00 p.m
Price ranges: From US$ 2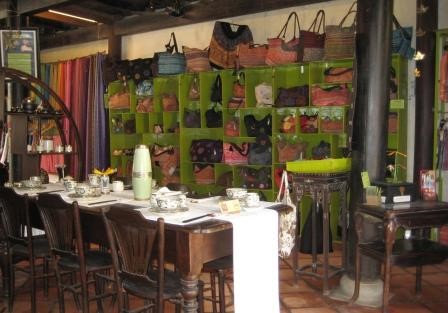 Reaching out is a fair-trade arts and craft shop, founded by a group of Vietnamese people. The leader of the group is Le Nguyen Binh, who is a wheelchair user. The shop employs disabled artisans, who can freely choose where to do their jobs, either at their home or in the workshop.
Tourists cannot find the products sold at Reaching out in any other places in Vietnam. The items, such as hand-worked home décor, stationary, toys, jewelry, textiles, pottery, silk, etc., are in very high quality but the prices are still very reasonable and competitive.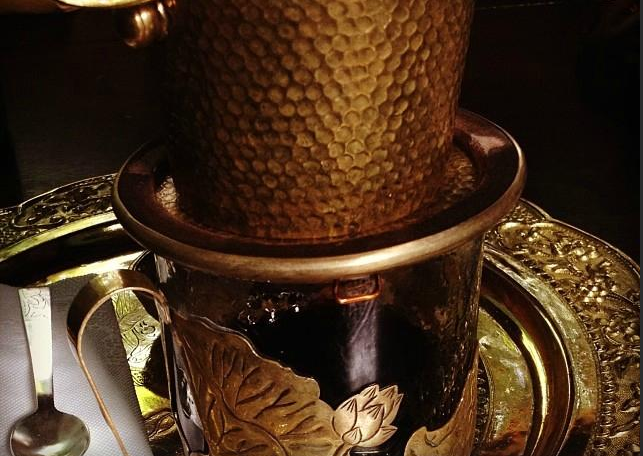 The sales staffs is helpful, patient, and knowledgeable. They are always willing to explain and recommend the best hand-worked products for suiting your tastes. Whenever you decide to buy any products here, this means you are supporting the disabled artisans to have a better life.